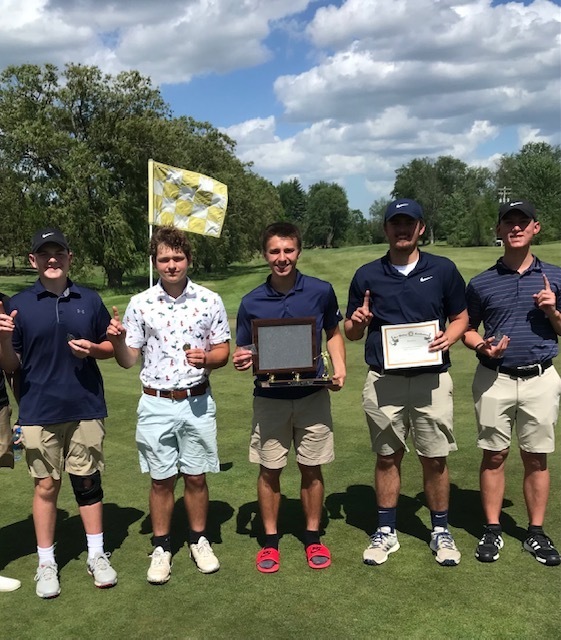 Hemlock's Golf Team Heading to State Tournament
District
Sunday, June 06, 2021
Congratulations to Hemlock's Varsity Golf Team as they advance to States at Grand Valley State University in Grand Rapids. In a year filled with uncertainties created in the wake of a worldwide pandemic, the Hemlock Varsity Golf Team demonstrated a level of grit and determination that was unparalleled. Sunday evening's required COVID-19 testing and a late start of the season didn't stop these Huskies to rise above.
Recently, the Huskies took 3rd place at Regionals with a one-shot lead, Senior Carter Miller sunk a 4-foot putt on the last hole to beat Frankenmuth, and secure the win, and move on to the State Competition on June 11-12, 2021.
"This team came out determined and worked hard to make this season successful, shared Coach Brad Phillion. I had 2 returning senior players, Nolan Finkbeiner and Anthony Hagarty, and a new senior, Carter Miller, who couldn't play due to the canceled sport's season last year. Plus, I have some great underclassmen athletes, Junior Carson Countegan, Sophomore Zachary Krueger, not to mention my freshman Rocco Rosa, and many others returning next year that I can't wait to watch grow in the sport!"
The Huskies have had a successful season with winning the Tri-Valley Conference Championship and many of the team winning medals and honors.
Principal Green said, "This is a great achievement for Hemlock High School. I can't remember a golf team going on to the state competition in the last 20 years. This team has had some monumental moments this year in many areas. Way to go!"