EDIT MAIN
FAQ
Q: My default browser is not Google Chrome
A: 1.
2. Select Chrome
---
Q: My video freezes on Google Chrome
A: Turn off Hardware Acceleration in Google Chrome Settings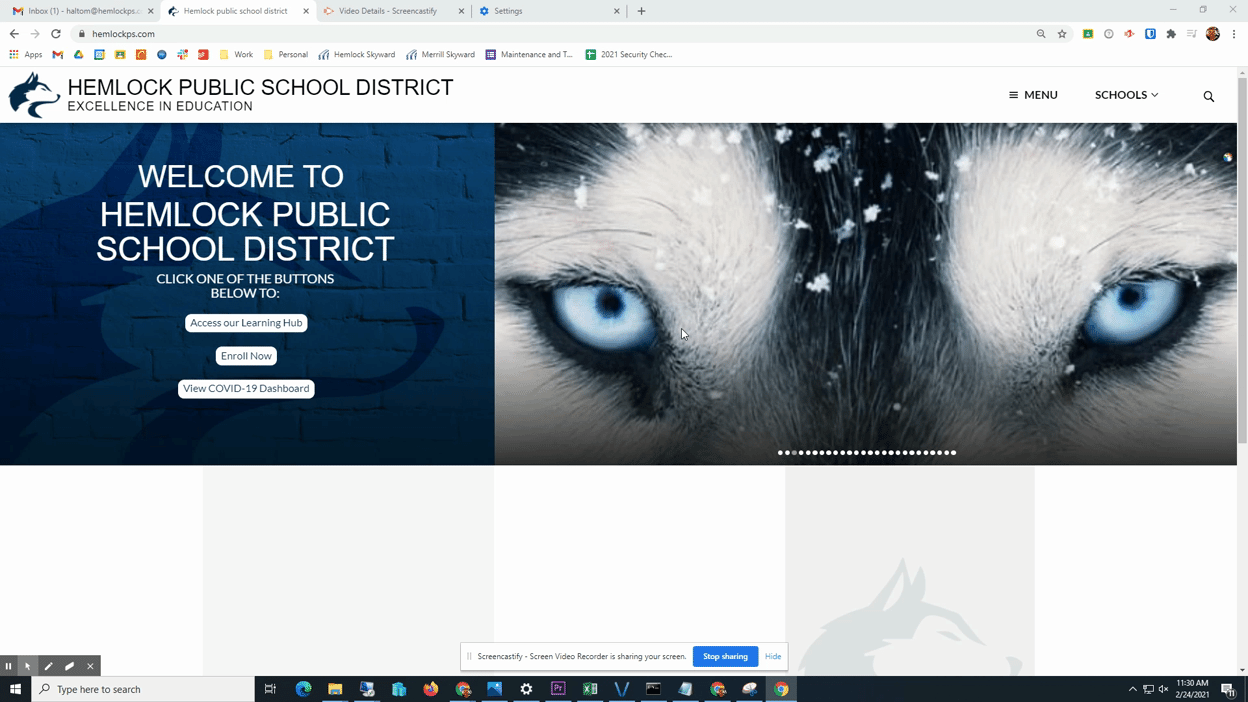 ---
Q: My interactive pens do not detect pen or touch.
A: Since the installation of your dual monitors, the settings have changed for your projector. It's possible that we missed your room while doing our tests, so please contact us.
---
Q: My interactive pen tools only open up on my left monitor.
A: You can select which screen your interactive pen tools appear on in the Easy Interactive Tools Settings. First click on the toolbox icon
then click on settings:
. Next click on the Enlarge Screen tab and select the Secondary Display option:
. The pen tools will now open on your second screen.
---
Q: How do I change the display settings (extending and cloning) for my new monitors?
A: Please watch this video which walks through your options. Video
---
Q: What are the best practices for using Google Meet on my new 65" TV and Chromebox?
A: Please read the steps below:
Join Google Meet from teacher cart PC.
Join Google Meet from TV/Chromebox.
Mute your mic from the TV/Chromebox within Google Meet
Turn off the volume on the TV using the ROKU remote. The mute button is on the side.
This will allow your virtual students to appear on your TV and still give you the ability to speak to them (through webcam at your teacher cart) and present anything via your teacher PC.
---
Q: I can't hear my students on Google Meet, but they can hear me.
A: First, check the volume on your computer by clicking the sound icon in the bottom left. Second, make sure your Xpanel is on "This PC" or the volume from your computer will not come through the classroom speakers.
---
Q: I'm having trouble reading text or even seeing the cursor on my 65" inch TV and Chromebox. Is there a way to make it bigger?
A. To make everything bigger or smaller press the following key combinations:
Bigger - Ctrl+Shift and Plus +
Smaller - Ctrl+Shift and Minus -
Reset to default - Ctrl+Shift+0 (zero)
You can also make the cursor size larger by going to Chrome Settings, Under Advanced-> Accessibility->Manage accessibility features->Mouse and touchpad, click on Show large mouse cursor. This will give you a slider for adjusting the size.
---
Q: My attendance report was not emailed to me for a particular Google Meet.
A: Your attendance report will not be emailed until everyone has left the Google Meet. It is best practice to kick the remaining students from the Google Meet at the end of the hour prior to hopping into the next meeting. (Thanks to Amy Bry for discovering this)
A. 5 attendees are required for an attendance report. (Thanks again to Amy for finding this info)
---
Q: My Chromebox attached to my 65" TV continue to go to sleep every 10 minutes.
A: This problem was originally reported on 1/4/2021 and should be resolved as of 1/6/2021. The sleep time should now be set to 24 hours of inactivity. If you continue to experience problems, please restart your Chromebox or email us.
---
Q: Certain PDF documents are not printing.
A: This is caused by PDFs opening in Microsoft Edge as opposed to Adobe Reader. Changing the default PDF reader to Adobe Reader will fix this problem. To do this, right click on any PDF document in your downloads or saved in your documents, then click Properties, then click Change and select Adobe Reader (shown below). If Adobe Reader is not an option for you, please let us know.
---
Q: My 65" TV says no signal
A: The Chromebox will fall asleep after 24 hours. To wake it either press the enter key on the wireless keyboard or press the power button on the Chromebox.
---
Q: How do I reset my computer and Gmail password?
A: The password change link is available on this page, but is only available when on our network.
---
Q: My doc cam is out of focus
A: Press the AF/MF button on the doc cam to refocus the image
---
Microphone
Like your camera, there are a few common reasons why microphones don't work.
It's not plugged in or turned on
The batteries are not charged

Put it on the charging stand. If you need new batteries, or your stand isn't working, we will provide you with replacements.

There is another microphone somewhere that is plugged in (rare)

Occasionally there could be an audio input device that was left inside a teacher's cart or is integrated with an existing webcam. This can be solved by removing this device and restarting your PC.
Too loud/quiet or creating feedback
If your mic is too loud, or producing static feedback, you can lower the output volume on either the microphone or on the switcher.
Conversely, a quiet microphone can be remedied by raising the volume, however this can make it produce feedback, so it is up to your discretion what sound level is appropriate.
Renaissance/STAR
Adding Students
Go to your class by clicking on the class name.
Click on Add/Remove students.
Enter the student's name and hit the search button.
The student's name show should up. Select it.
Then click the "Enroll Students" button.
Loom
My Loom video recording is stuck uploading
Email us the video link and we will forward the link to Loom support
My webcam doesn't appear in Loom
If you want to use Loom and use your webcam, I highly recommend turning your doc cam off prior to opening Loom. Once you have opened Loom and begun the recording, you can then turn on the doc cam. If your doc cam isn't turned off, it seems that Loom will continuously try to access the doc cam and will not allow you to select the webcam.
Loom will not open
Loom is crashing my Chrome browser
Restart chrome or your computer.
Loom has its own troubleshooting page if you'd like to check it out.
Projector
First, please make sure that "Doc Cam" is selected on X panel or that "PC 2" is selected on the switcher, and that your projector is turned on.
Projecting computer screen
If you want to be able to extend your computer screen, like having two different monitors, hold down the windows button and P at the same time, then select extend.
Alternatively, if you'd like to duplicate your display to the projector exactly. Do the same thing but hit duplicate.
Projecting Document camera
Hold down the USB/VGA/ESC button for about 5 seconds or until you hear a click. If this doesn't work try restarting your PC and try it again.
Phone
If you're phone isn't working, just try to unplug the cable and plug it back in.
Don't try to be a hero.
If it doesn't work, we'll come and replace either the handset, the cable, or more.
Camera
There are a few reasons why your camera may not be working
It's not plugged in

That would be an extremely embarrassing tech ticket.

There's a program open that's already using your camera

Besides making sure everything is plugged in, make sure there is nothing open that is accessing the camera. For instance, if you have Google Meets open and it's using your camera, you wouldn't be able to join a Zoom call and use that same camera.

Your computer cannot find or recognize it

If this is the case, we would suggest restarting your computer, as it might be having problems updating devices such as cameras.
DOCUMENT CAMERA
If you're trying to use your document camera, make sure "Doc Cam" is selected on X Panel, or "PC 2" is selected on the switcher scalar. Then, hold down the USB/VGA ESC button for 5 seconds, or until you hear a click. Then it should switch to the document camera. You can test this by opening the Camera app on windows by simply typing in "camera" in the search box at the bottom-left of the screen.
Google Meets
If you want to be able to switch from your normal camera to the document camera or vice versa, click on the three dots in the bottom-right corner of Google Meets, click on settings, video, and then select your video input. If the desired one isn't coming up, please refer to the steps above.
Printer
Printers, we all hate em.
Try the following steps, and if there are still issues, we'll look into the issue further.
Restart both your computer and the printer
Check to see that the printer has ink and paper
Make sure the paper isn't jammed inside the printer
Make sure you're printing to the right printer
This is by no means an exhaustive list, however it should fix the majority of faulty printer cases.