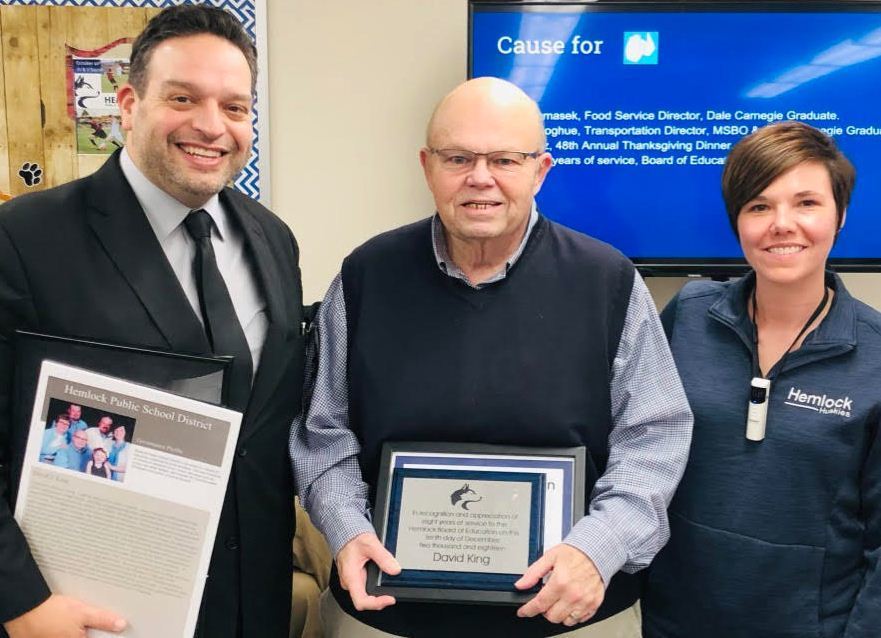 Hemlock Public School District Says, Goodbye & Hello
Don Killingbeck/Kelly Phillion
Tuesday, December 11, 2018
Hemlock Public School District Board of Education sends Trustee David King off with a big heartfelt thank you for his eight years of service on the board of education. As the school district says, goodbye to Trustee King, they welcome a new member to the board of education with newly elected Trustee Kimberly Hoeppner.
Trustee King has long affiliations with the school district and deep roots in the community. King taught in the school district for over 30 years, served on the board for eight years, and is the business owner of Barn Door Lumber.
Superintendent Killingbeck said, "King's service on the school board and to the community will not be soon forgotten."
Trustee Kimberly Hoeppner starts her service on the board with a rich history as a community member. Trustee Hoeppner has been a licensed daycare provider for 20 years, with both her children graduating from Hemlock High School, who went onto college and both now working, (one in plastic engineering and the other as a classroom teacher.)
Board of Education President Dr. Ellison said, "It is exciting to have a new member of the board, and I look forward to working with Trustee Hoeppner over the next two years."