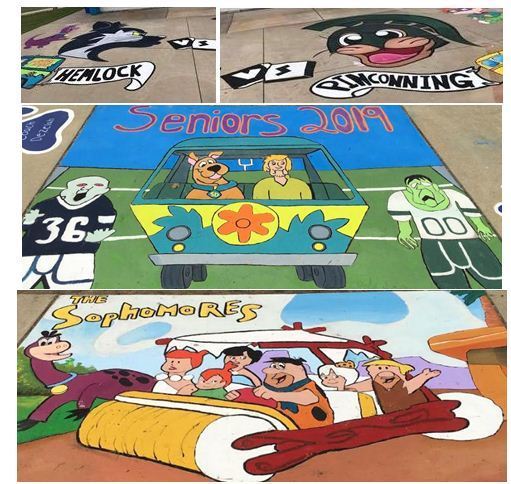 2018-19 Hemlock Homecoming Celebration
Frank Yell/Kelly Phillion
Monday, October 01, 2018
Hemlock Public Schools kicked off homecoming week with part of the festivities showcasing cartoon themes. HS Art Teacher RaeAnn Woodcock and her student's amazing efforts set the stage for the Huskies field for a victory over Pinconning 56-0.
Mrs. Woodcock stated, "It was a great effort with Sophomores, Juniors, and Varsity all participating. It turned out fantastic."
Other events that kicked off the week were the following: Spirit Week (with students participating in different dress-up themes,) Field Day, the crowning of our Homecoming King-Isaac Killingbeck, and Queen-Brooke Gorsline, and special visits from our amazing football team.
Coach Adam Clark and the Varsity Football Team pictured with some of our Youngest Huskies
Athletic Director Frank Yell said, "It is my first year as the AD and to celebrate in Homecoming makes me proud to be part of the Huskie Pack!"
For more information about this or other positive happenings, contact Hemlock Public School District at (989) 642-5282 or visit us on the web at www.hemlockps.com.