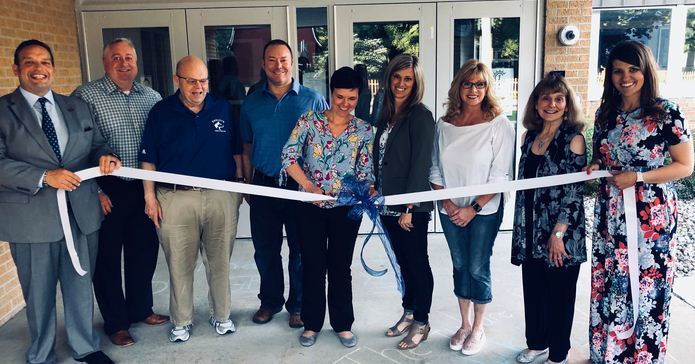 Huskies Cut Ribbon
Don Killingbeck/Kelly Phillion
Tuesday, June 12, 2018
The Hemlock Board of Education cut a ribbon instead of budgets at their regular June board meeting.
The Board of Education formally approved grade realignment at their regular June meeting. This action added five new classrooms to the Hemlock Elementary building.
The school district, which has faced declining enrollment since the 1980's, has recently leveled enrollment over the last few years and now experiencing increased numbers at the elementary.
Board of Education President Dr. Ellison said, "We are excited to see the district growing and to be using up the open space in our buildings, again."
Families want to join the Huskie Pack because of the small town feel with significant opportunities and offerings for students. The class of 2018 earned more than million dollars in scholarships, Hemlock Early Middle College has had students receive more than 2,000 college credits free to students and families, and the district's childcare program continues to be high demand with waiting lists.
Superintendent Don Killingbeck said, "The district continues to innovate, grow, and collaborate with parents and stakeholders. The future of Hemlock Public School District and the Hemlock community is better and brighter."
For the 2018-19 school year, K.C. Ling Elementary will be home to grades 1 through 4, with Hemlock Elementary being home to childcare, preschool, young five, and now Kindergarten.
The district encourages parents that are still considering educational options for their children for the 2018-19 school year to schedule a tour with the building principal(s).
Elementary: (989) 642-5221 (Principal Gensch)-Infant/Childcare/Preschool/Y5/K
K.C. Ling: (989) 642-5235 (Principal Gensch)-1st-4th grade
Middle School: (989) 642-5253 (Principal Keyser)-5-8th grade
High School: (989) 642-5287 (Principal Green)-9- 12th/AltEd