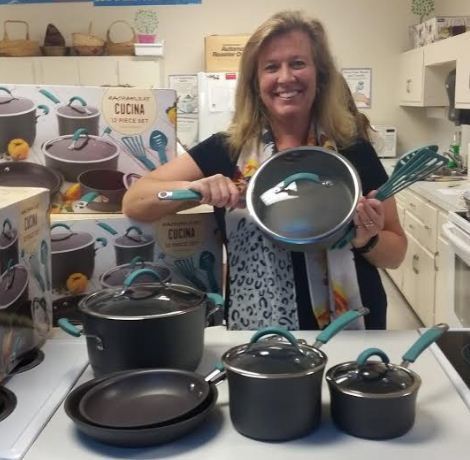 Culinary Arts Class Receives
Don Killingbeck/L. Gerard, Kelly Phillion
Wednesday, May 30, 2018
Culinary Students can now cook and bake with NEW confidence thanks to the support of their community.
The culinary class has needed new cookware for a long time. Students are constantly in the kitchens at Hemlock High School, every week making five recipes in five working kitchens. Students plan, prep, and serve amazing dinners for Veterans at Thanksgiving, and community members at exam times. Some of the dinner guests are parents or other family members, of students taking the class, so they can see first-hand all the life and career skills students are learning. A significant event for the class is the Love of the Arts night held in early May. This year students served over 4000 appetizers and desserts to our 1200+ guests. The current cookware was in poor condition.
New utensils and pans were purchased from donations collected by Hemlock Community members through Box Tops for Education, five new glass 13" x 9" pans with lids donated from Dr. Luan O'Connor of Medina, Ohio, Hemlock's Pep Club helped purchase a new range, and The Maytag Store upgraded the range. For more information about you can help the Hemlock Education Fund help make more positive things like this happen, see Chair Char O'Connor.
"I sincerely appreciate all of the individuals who donated Box Tops for Education to Hemlock Schools!" commented Mrs. LeAnn Gerard, culinary instructor. "I am truly overwhelmed by the support I have received to help my culinary classes thrive. Thank you to the Pep Club! I was surprised, again, when The Maytag Store told me they were generously upgrading the range, I ordered. The staff there said they are so impressed with what I teach at Hemlock High School that they wanted to do this for me. Thank you to the Maytag Store! I love what I do and I'm so thankful for all these people who support me and their generosity."
Hemlock High School Freshman Isabella Atkins responded with, "God bless you to all who supported this class with donations!"
Freshman Gracie Davis-Kreh exclaimed, "Thank you so much! We are so grateful for the community support!"