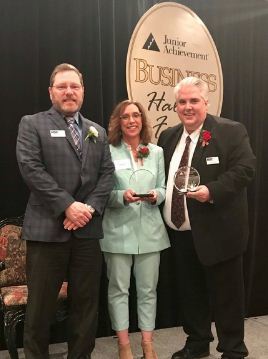 Hemlock Huskies Junior Achievement Honorees
Jennifer Whitford/D. Killingbeck/Kelly Phillion
Monday, May 21, 2018
Junior Achievement (J.A.) of North Central Michigan recently awarded Lynn and Linda Gruber, both of Hemlock Semiconductor Operations LLC, with the "Volunteer of the Year" award for their work volunteering in Mrs. Whitford's economics classes at Hemlock High School.
Mr. and Mrs. Gruber were recognized during the Junior Achievement's Annual Hall of Fame dinner event held at the Horizon's Conference Center on Thursday, May 3rd, 2018. They are parents of current Hemlock High School students Jordan and Jarrett Weigold.
Mr. and Mrs. Gruber have volunteered with J.A. for the past seven years and have been involved in coaching "Titan Challenge" teams as well as teaching the J.A. Personal Finance class. The program teaches students concepts and planning methods around earnings, savings, budgeting, credit and being a savvy consumer.
Mrs. Whitford stated, ""Lynn and Linda have been an invaluable 'real world' component in my economics course. I certainly appreciate the many hours they have spent volunteering their time and sharing their knowledge with us."
Congratulations to Mr. and Mrs. Gruber, for their special recognition and their commitment to community volunteering. If you want to see more from this event or learn about Junior Achievement of North Central Michigan, please visit: https://www.janorthcentralmi.org/events/hall-of-fame-saginaw-bay-area/.