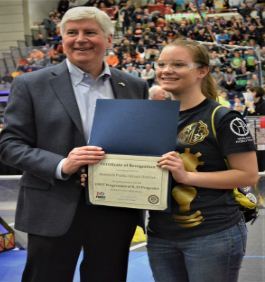 Hemlock Public School District Honored by Governor Snyder for Commitment to STEM Education
Tom Lockwood/Kelly Phillion
Monday, April 30, 2018
Hemlock High School's Robotics Team, Gray Matter, competed at the FIRST State Championships held at Saginaw Valley State University on April 12, 13, and 14th. During the event, Governor Snyder presented a Certificate of Recognition to the team for its support of K-12 STEM education.
Hemlock Public School District provides the complete FIRST Progression of Programs, which includes a component for every grade level K-12. Hemlock has over 100 students and 30 mentors participating in the program.
Hemlock's Gray Matter competed at the FIRST World Championships held at Cobo Hall and Ford Field in Detroit, Michigan, April 26-28. Gray Matter received the Imagery Award.
Robotics Advisor Lockwood stated, "Robotics programs exist to get kids interested in Science, Technology, Engineering and Mathematics subjects and careers. We've worked hard to provide these opportunities to as many children in our district as possible. From FIRST Robotics, to an Elementary Maker Space, from interactive classroom technology to our 1:1 computer initiative
we're committed to giving our students world-class experiences. It's nice that people in our region, as well as the governor, have recognized our commitment to K-12 STEM education."