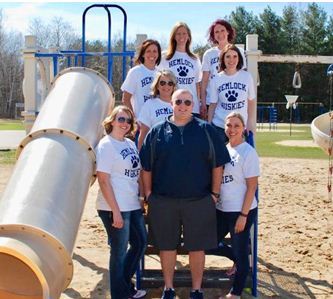 Playground Patrol
Lori Gensch/Kelly Phillion
Wednesday, April 25, 2018
Hemlock Public School District is fortunate to have great families and wonderful community support. The district is continually focused on student safety, achievement, and overall positive school experience.
Elementary Principal Gensch said, "The Playground Committee has been working tirelessly to make this project happen. I am amazed by their dedication and commitment to improving our current playgrounds. This is just another example of the supportive families and community members we have here in Hemlock."
Playground Patrol started this year with a vision of replacing old and outdated playground equipment at both Hemlock Elementary and K.C. Ling Elementary. This is a group of elementary parents that are on a mission to raise $100,000. These efforts started in August of 2017, and so far have produced $55,145.86.
Playground Patrol Chair Sarah Baird said, "I am very proud of the efforts we have made this year. The community has come together to support us, and we are very appreciative!"
We are always looking to add partners to our improvement efforts, if you have ideas, a donation, in-kind materials/labor, or want to discuss efforts, please let us know.
If you would like to know more about this project, please contact Sarah Baird at sbaird524@yahoo.com or Principal Lori Gensch at gensch@hemlockps.com.