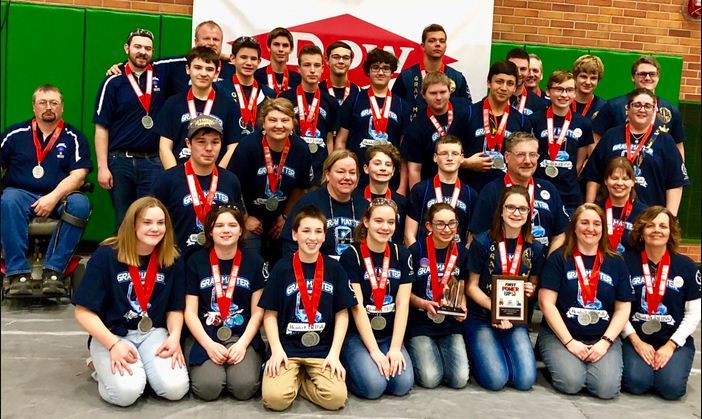 Hemlock's Robotics Team Heading to World Championship
Dana Lockwood/Kelly Phillion
Monday, April 16, 2018
The State Robotics Competition was held this past weekend at Saginaw Valley State University drawing in over 160 teams with over 5,000 in attendance.
Hemlock High School Gray Matter Robotics Team, comprised of students from 9th-12th grade, started the competition confident in their chances of pressing through States and making it to the World Championship Competition in Detroit, Michigan. The team fought adversity throughout the competition; Friday morning they found themselves ranked at 34 in their division of 40 teams and likely heading home early.
"We have a really cohesive team, a team that's done a great job being prepared," said Dana Lockwood Hemlock's coach, "we were competing at a very high level, felt good about how we were doing and things finally started going our way."
High School Junior, Isaac Killingbeck said, "We kept our heads up and stuck to our game plan."
Gray Matter managed to battle back and finished the qualifying rounds ranked in 14th place, the team was first alternate, and found their chance to see action in the 2nd match of the semi-finals. The Gray Matter Alliance Team split their last two matches and was ultimately bumped out in a tiebreaker from the finals.
The Hemlock High School Gray Matter Robotics is the only Saginaw County team headed to the World's Robotics Competition, which will host the best teams from around the world on April 26 through 28, at Cobo Hall and Ford Field. Admission is free and open to the public.
Superintendent Don Killingbeck said, "FIRST Robotics is a wonderful organization and competitive academic learning experience for our students. We are fortunate to have a high quality program."