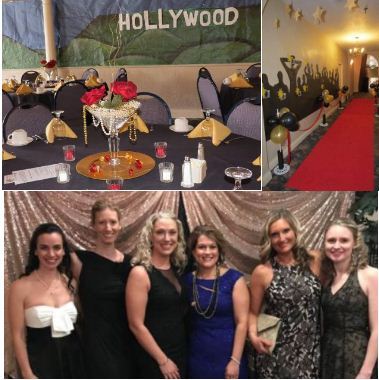 Hemlock Celebrates 13 Years of the Paw Ball-Oscar Style
Don Killingbeck/Kelly Phillion
Tuesday, March 20, 2018
The Hemlock Pep Club put on a star-studded event for their 13th annual Paw Ball on Saturday, March 10th. The "Oscar Experience" theme had many of the guests going all-out, with ladies in formal gowns, men sporting bow ties, and the "paparazzi" even showed up.
Tammy Grandy, Pep Club President, said, "I was truly amazed at how many people attended Paw Ball this year. We have an amazing supportive school/community family in Hemlock. I wouldn't want to be anywhere else. Many people complimented on the evening and said that they would be attending again next year."
The Hemlock Pep Club is comprised of 18 volunteers whose efforts go to support students and staff in a variety of ways, such as classroom supplies, college scholarship, homecoming supplies, and congratulations/good luck care packages for all teams making it to districts/states.
Superintendent Don Killingbeck said, "This is a wonderful event for the whole community to gather and celebrate our collective Huskie Spirit!"
Thank you to all of the Pep Club members, the businesses that donated fantastic prizes, Swan Valley Banquet Center, Hemlock Public School District staff, HS Art Club, and our FABULOUS community!
Next year's date and theme will be discussed in the upcoming months depending on deadlines for scholarship applications and various other calendar events. The Pep Club is always looking for new members and volunteers.