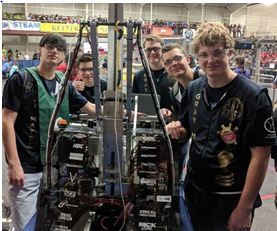 Hemlock's Robotics' Teams Gaining Ground
Tom Lockwood/ Stephanie Dunton/Kelly Phillion
Monday, March 12, 2018
Hemlock High School's Gray Matter Robotics' Team competed in the Kettering University District Competition on March 10, 2018, against world champions-hall of fame teams and finished with the 6th highest point total of 40 teams. They, also, won the Imagery Award. This award celebrates attractiveness in engineering and outstanding visual aesthetic integration of machine and team appearance.
Robotics Advisor Lockwood stated, "We were ready to compete. We've won some events in the past, but I've never felt better about how we compete. This is the best machine that we've had, and we are about to make it even better. Our pre-programmed autonomous modes were some of the best at the event, and they are about to get a whole lot better."
Team head-scout and student Sierra Yell said, "The competition was very exciting. We were competing against some amazing teams and we kept right up with our competitors. My twenty-five members team and I are super excited to see how the rest of the season goes. We have a lot of talent we hope to portray through our robot at our next event."
Gray Matter will take their experiences from this past weekend and work to improve their robot and team in preparation for their next completion at H.H. Dow High School in Midland, on March 23rd and 24th where 40 teams from around the state will compete. Events are free and open to the public.
Pictured L-R: Judah Schrems, Cooper Gensch, Logan Proux, Jaxson Fonholz, Jack Killingbeck, Coach Dunton, Bo Galbraith, Aiden Trinklein
Hemlock's K.C. Ling Elementary students, also, competed on March 10, 2018, at Central Elementary in Midland. Students won in construction innovation.
Mrs. Dunton noted, "The students worked really hard all year. They researched, problem solved, and work together to build Lego models that represented the way people find, pump, transport, store, and use water. They were able to display and celebrate all the hard work they put into models at the showcase."
Superintendent Don Killingbeck said, "We are fortunate to have robotics teams in grades K-12 with so much interest from students and the support of coaches and mentors."