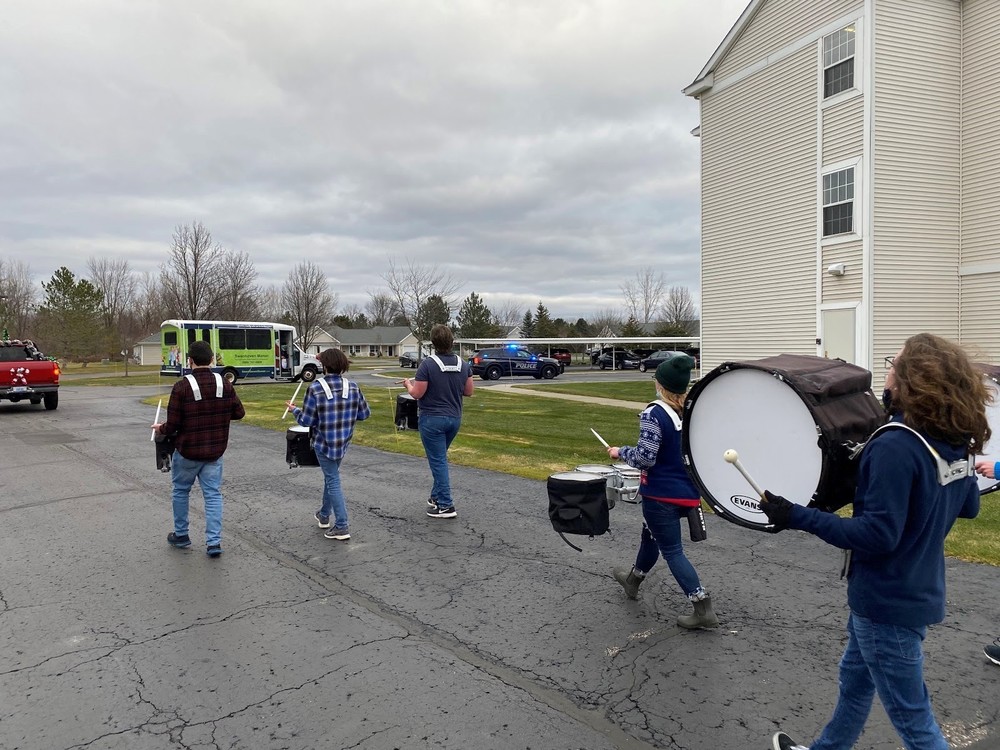 Hemlock Drumline Brightens Seniors' Day Over Holiday Break
District
Sunday, February 21, 2021
With the pandemic keeping families from being able to visit their campus, Swanhaven Manor Retirement Community put together a Christmas parade to brighten the day for their residents.
Joining in the parade were Thomas Township Police and Fire Department, as well as some Christmas floats and even Santa Claus. The final piece of the Christmas parade was the Hemlock Marching Huskies Drumline.
"A parade just isn't a parade without a marching band," stated Swanhaven Event Organizer and Director of Activities Jessica Cappell. "The biggest compliment from all the residents was that the band was amazing."
Clad in Christmas Sweaters, the drumline performed cadences that they worked on throughout the marching season. Residents from every part of the community gathered outside on their balconies or along the parade route to enjoy the festivities.
"I couldn't be happier to finally have a chance to do a community performance; with as hard as this year has been for everyone, it was great for the students, the audience, and honestly me, as well, to get out and make people smile with some great music," said Charles Bicigo, the Director of Hemlock Band. "The students spend so much time and effort to learn this music, and it is heartbreaking that there haven't been all of the opportunities that we would usually have to share our hard work with the community; this has been a great experience for them, one that I would like to make a tradition for years to come."
For more information on band activities, or to answer any questions, you can email the director Charles Bicigo at bicigo@hemlockps.com, or check us out on Instagram @hemlock_band.