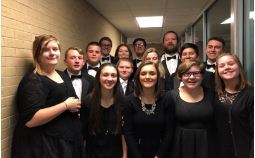 Hemlock Band Students Contribute to TVC-West
Joshua Chase/Kelly Phillion
Tuesday, February 20, 2018
The Hemlock Public School District's Instrumental Music Department made huge contributions to the Tri-Valley Conference-West Honor Band on January 31, Ovid-Elsie High School.
"As we look ahead to the next few months, we will still have many students who are going above and beyond," said Joshua Chase. "We had 14 students who were nominated and selected to participate in the TVC West Honor Band. This band is made up of 15 student musicians from 6 of the Tri-Valley West high schools."
The TVC West Honor band was under the direction of Mr. Matt Wicke, Director of Bands at St. Charles Community Schools, and Hemlock's own Mr. Joshua Chase. "It was truly an honor to direct these fine musicians of the TVC-W," said Chase. "When you put a concert on after very little rehearsal, the kids have to come in with the right mindset."
Hemlock also has seven events that have qualified to them perform at State Solo & Ensemble at Okemos High School in Okemos, MI. The show will take place on March 17, 2018.
Preparation for Hemlock Public School District's spring concert season has begun and is in full swing. We anticipate three great spring concerts that are sure to entertain all who attend.