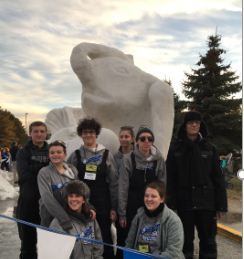 Art Department Honors and Events
Terry Keyser/Kelly Phillion
Tuesday, February 20, 2018
Hemlock Public School District's Art Department selected six high school students to participate on a snow sculpting team to compete against 19 other Michigan high schools at Zehnder's Snowfest this year. The team placed 3rd and received a cash award. The team's design of a mother elephant embracing her infant was a definite crowd pleaser.
"This entirely new team of snow sculptors came in ready to learn and gave it their all," said art teacher and snow sculpting coach RaeAnn Woodcock. "Their design was well thought out, was pleasing to the genre in attendance and their artist statement hit their emotional tie home. We walked away tired, but very proud."
Hemlock High School was also honored by the representation of two additional alumni teams who both carved in the Zehnder's Snowfest Michigan Division. Our own 2017 Hemlock High School Snow Sculpting team, which received first place last year, took home the award of "People's Choice" and $250.
Hemlock's Art Department is now looking forward to the spring season of art shows. They have been selected by Saginaw Valley State University's Gallery to exhibit 10-15 of the student's best work from March 19-April 13, 2018 at the High School Invitational Exhibition.
In addition, students are hard at work preparing compositions for the annual Love of the Arts Night Art Show, on May 8th, 2018, held at Hemlock High School. This amazing event is a community favorite and is completely astonishing each and every year. We hope to see everyone there again this year!