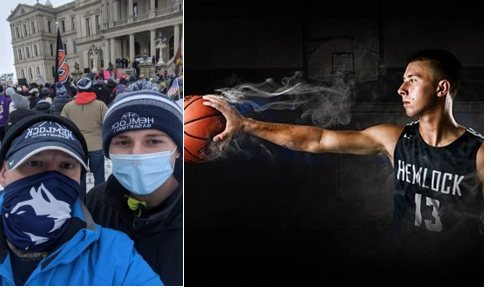 100 Points Away
District
Monday, February 08, 2021
For Hemlock High School Senior Nolan Finkbeiner, his dream can now become a reality with the start of the winter 2020-21 sports season. All winter sports will begin to compete this week with an abbreviated season.
On Saturday, January 30, 2021, more than two-thousand people gathered at the steps of the state capital to support the "Let Them Play," movement. Hemlock was represented by families supporting their student's desire to play the sports they love. One student that was in attendance was Nolan Finkbeiner. Nolan is a 4-year varsity "All-State" starting point guard with aspirations to play collegiately next year. Nolan is currently 100 points away from scoring 1000 points in his career.
"Hitting the 1,000 point-mark has been a dream of mine since being on the varsity team as a freshman. Being a part of the 1,000-point club would be an honor, as only a few players in my school have achieved it," shared Nolan Finkbeiner.
High School Principal Green noted, "I have had the opportunity to coach and watch Nolan since he was eight-years-old. I know how hard he has worked year-round to reach this milestone. I also know that this has been a goal, but his selfless, team-first attitude, he would easily trade it for a team victory."