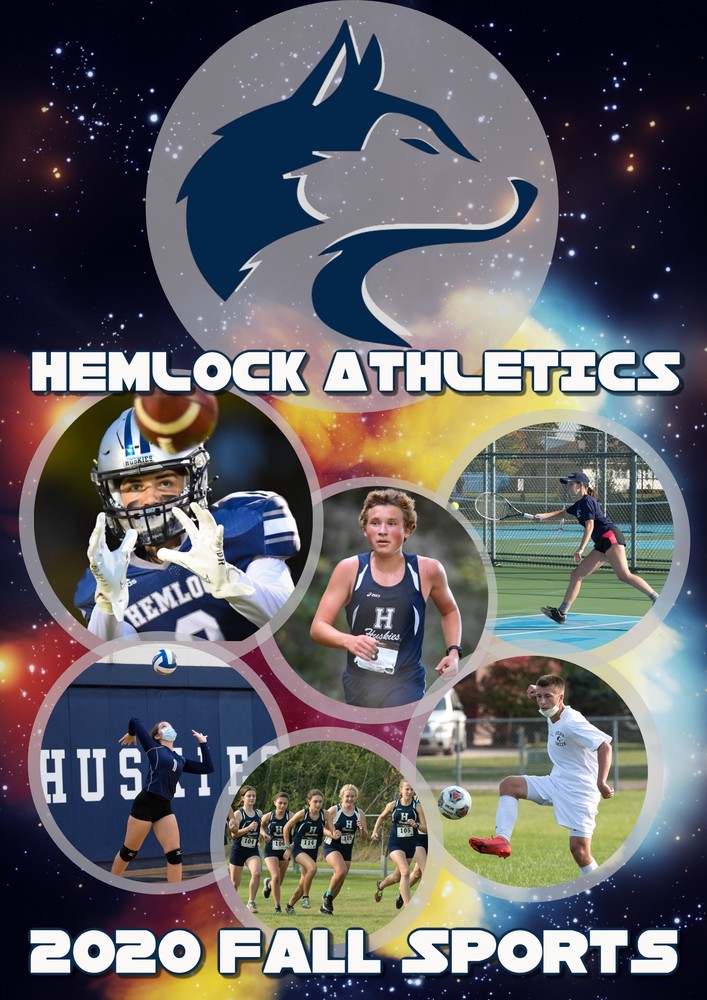 Hemlock Finishes Fall Sports Season 2020
District
Wednesday, November 18, 2020
Hemlock, MI – Hemlock's Huskie Pack powered ahead with the fall sports season, amongst many uncertainties with COVID-19 concerns and requirements. The Hemlock Huskies Athletic Department fielded 14 competitive teams with athletes in grades 5-12, hosting 55 competitive events, and on the road to 68 events.
Principal and Athletic Director Keith Green said, "We had a great fall season, it was good for our student-athletes to be engaged in physical activity and sharing common experiences with teammates."
Varsity Cross Country (boys & girls) coached by Terry Keyser, had 17 athletes & MS Cross Country (boys & girls) coached by Hannah Watson, had 19 athletes: The varsity girls team placed 3rd and the Varsity boys placed 6th in the TVC Overall Championships. Chloe Watson qualified for the state final for the second year in a row.
Varsity Football coached by Adam Clark, and JV Football coached by Tristen Siler & Tyler Zolinski, had 43 athletes: Varsity Football had an undefeated season and ended their season in the district final.
Varsity Soccer coached by Joe Wardlow, and JV Soccer coached by Jay Reidsma, had 23 athletes: The varsity team finished 2nd in the conference with an 11-4 record and ended their season in the district final.
Varsity Tennis coached by Chad Ludwig, with 15 athletes: Max Hauffe ended his senior year with a perfect record of 16-0. The team finished 5-5-3 in the regular season.
Varsity Volleyball coached by Pete Salo, JV Volleyball coached by Caitlin Boehler, and Freshmen Volleyball coached by Julia Striech, teamed 32 athletes. MS Volleyball coached by Noreen Zastrow & Diana Martinez, had 24 athletes: Volleyball had to overcome gym closures early in the season. The teams practiced outside in a variety of weather, but the students and coaches carried on without complaint. The varsity team had some noteworthy wins against Carrollton and St. Louis.
"We witnessed an amazing level of teamwork this fall with great things happening on the competition field and in the classrooms," said Superintendent Killingbeck.