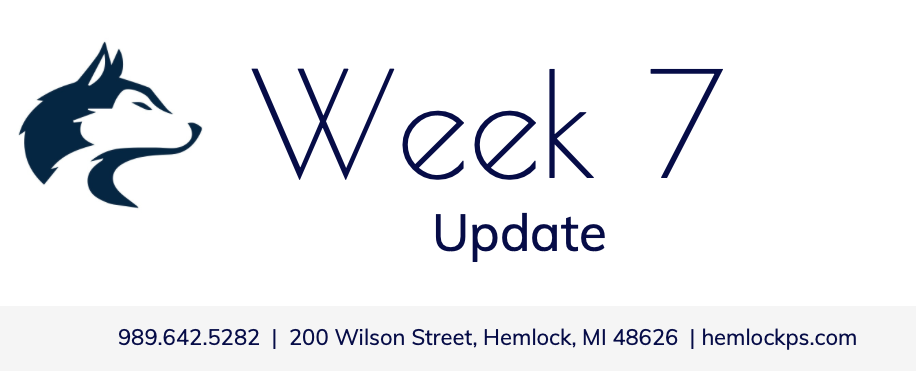 Update - Week 7
District
Thursday, October 08, 2020
This was our seventh week of the 2020-2021 school year.
As of right now, we can report there are no reports of new Covid-19 cases from our seventh week back at school.
Resist the normal, everyone seems to want everything back to normal, including me. But, if we want to continue in school, related activities, and add more things we need to continue to do our part.
With flu season around the corner, please continue to do daily health checks with your child and make sure to keep them home if they show any symptoms or simply not feeling well. This is one of our best safeguards against the spread of COVID-19 and other sicknesses.
Please continue to practice and teach your child to follow the 3 W's to reduce our risk of COVID-19. The 3 W's are:
Wear a Mask
Wash your Hands
Watch your distance
Last week, I mentioned that we are operating under the Governor's Executive Orders and that meant we are doing the business of education differently. Since then, the Michigan Supreme Court ruled that our Governor did not have the authority to extend her powers and called into question all of her executive orders after April 30th.
Despite the court ruling, schools have other oversight authorities that we are responsible to follow their requirements for educating and operating. These entities include the Michigan Department of Education, the Michigan Health Department, and more.
We continue to do the business of education differently than we would otherwise with masks K-12, social distancing, frequent washing of hands, and cleaning and sanitizing of space.
Our rate of face-to-face students remains relatively the same at slightly less than 90% +/-.
This week is our final home football game for the regular season! We encourage you to watch our teams utilizing our streaming network.
We know every day can be hectic getting ready for school and would encourage your child to utilize our free breakfast and lunch for all program.
It is our goal to be back in school five days a week; we are currently operating in a hybrid model with Monday-Thursday face-to-face and Friday online for everyone. At this time, we continue to review this format but have determined that if we continue along our current path we will be back 5 days a week with face-to-face instruction no later than the first week of November.
Right now, we will continue to have remote Fridays on October 2, 9, and 16 with the remaining two Fridays in October TBD (to be determined). We will communicate about our intentions regarding the future Friday's in my weekly update, no later than October 15th regarding October 23rd and 30th.
If you should have any questions or concerns, please do not hesitate to contact me.
All the best,
Don Killingbeck, Superintendent of Schools
The following are lessons learned from this week.
We serve a great community!
We need to stay the course.
Positive things continue to be ahead of us.