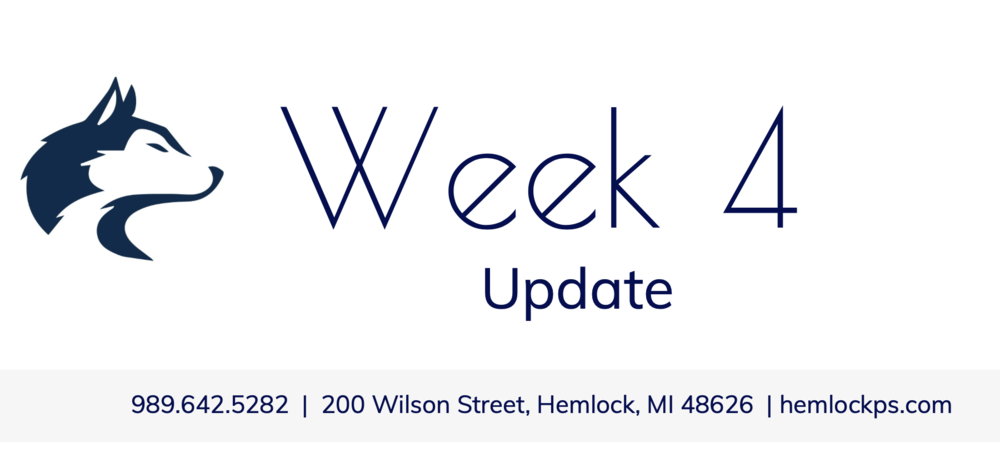 Week 4 - Update
District
Thursday, September 17, 2020
As promised, we will continue to provide a regular school update. This week was our second week with all of our face-to-face students on campus Monday-Thursday and everyone remote on Friday. We currently have approximately 90% +/- of our students that have selected in person learning and the remaining selecting remote/virtual option of instruction.
Together, we keep our students, staff, and community safe, healthy, and moving forward. What COVID-19 could not do a squirrel managed to do this week; shutting us down Wednesday morning for the day.
As of right now, we can report there are no reports of new Covid-19 cases from our fourth week back at school. We, however, continue to be cautiously optimistic and have kept on the path of additional precautionary measures. One major contributing factor to our good fortune is our parents not sending symptomatic children to school and being vigilant in contact us with any concerns.
We continue to practice and teach our students to follow the 3 W's to reduce our risk of COVID-19. The 3 W's are:
Wear a Mask
Wash your Hands
Watch your distance
It is so important that we all do our part to keep our children and everyone else safe. Please remember to complete a health screener with your child before sending them to school.
This week we continue with free breakfast and lunch for all and our athletic teams continue to compete. We encourage you to watch our teams utilizing our streaming network.
It is our goal to be back in school five days a week; we are currently operating in a hybrid model with Monday-Thursday face-to-face and Friday online for everyone. This format is scheduled through September this way with Friday, October 2, being planned as TBD (to be determined). We will communicate about our intentions regarding future Friday's in my next weekly update.
If you should have any questions or concerns, please do not hesitate to contact me.
All the best,
Don Killingbeck, Superintendent of Schools
The following are lessons learned from this week.
Nothing is impossible when you have a great team!
Even your best plans run into a squirrel or two.
Families continue to want face-to-face at a higher rate.
Positivity continues at a high level from our students and staff.