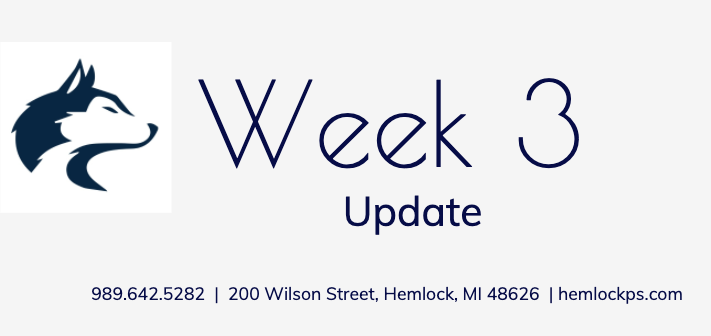 Week 3 - Update
District
Thursday, September 10, 2020
We will continue to provide a regular school update. This week, we started for the first time this school year with all of our face-to-face students on campus at the same time, which is approximately 90% of our student body. The remaining students have selected our remote/virtual option and continue to learn with us as well.
As of right now, we can report there are no reports of new Covid-19 cases from our third week back at school. We, however, continue to be cautiously optimistic and have kept on the path of additional precautionary measures.
We continue to practice and teach our students to follow the 3 W's to reduce our risk of COVID-19. The 3 W's are:
Wear a Mask
Wash your Hands
Watch your distance
It is so important that we all do our part to keep our children and everyone else safe. Please remember to complete a health screener with your child before sending them to school.
Our team here continues to work hard and are doing their absolute very best with the circumstances that we are operating under. Last week we launched free breakfast and lunch for all students under the age of 18 this week. This week we ventured into competitive sports for all of our fall teams with guidance from the MHSAA. On that note, congrats to the Boys Varsity Soccer team on their impressive win over the Panthers of Standish-Sterling on Wednesday night under the lights.
It is our goal to be back in school five days a week, we are currently operating in a hybrid model with Monday-Thursday face-to-face and Friday online for everyone. This format is scheduled through September this way with Friday, October 2nd being scheduled as TBD (to be determined). We will communicate about our intentions regarding future Friday's in one of our upcoming weekly updates.
If you should have any questions or concerns, please do not hesitate to contact the central office at 989.642.5282
All the best,
Don Killingbeck
Superintendent of Schools
The following are lessons learned from this week.
Things appear very calm and "business-like," we are back to the business of educating students and it feels good.
Our student body exhibits a high level of maturity, we too often underestimate our children/students. They are resilient!
Positivity continues at a high level from our students and staff.
Resources:
Saginaw County Health Department, (989) 758-3800
Soft Start/Hybrid Calendar
State of Michigan, COVID-19 Return to School Toolkit
Update Transportation Information, Transportation Return to School Roadmap
Cleaning and Disinfection Protocols
New Student Enrollment Information