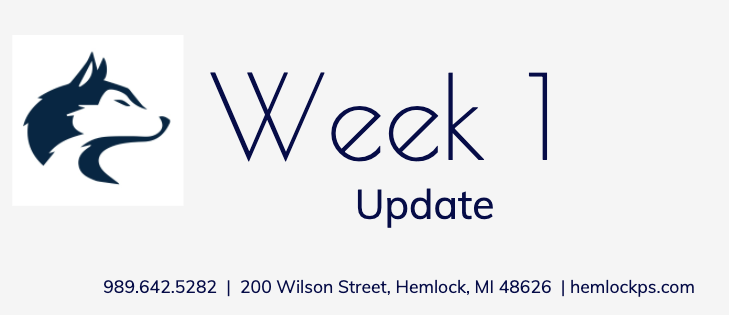 Week 1 - Update
District
Thursday, August 27, 2020
As promised, we will provide a regular school update. This week, we started school with a soft start with approximately 50% attending face-to-face instruction daily and the others learning remote.
Right now, we can report there are no reports of new Covid-19 cases from our first week back at school. We however did exclude some students before school started and sent a few others home due to potential exposure (not at school).
Each one of us has to do our part to keep our children safe and learning. Please remember to complete a health screener with your child before sending them to school.
Please do me a favor: thank your child's teacher(s) and other school employees. Many schools could not pull this together and make it work. This is due to the dedication and care of Hemlock Public School District employees from the bus drivers, lunch ladies, paras, secretaries, classroom teachers, supervisors and department leaders, and building principals. Simply an all around team effort.
If you should have any questions or concerns, please do not hesitate to contact central office at 989.642.5282
All the best,
Don Killingbeck
Superintendent of Schools
The following are lessons learned from this week.
1. Our students, parents, teachers, support staff, and administrators are amazing people!
2. We can do this! In many ways, it actually felt like a first week of school as we worked to ensure everyone knew where to go, what time drop off and pick up were, and how lunches work. There is no obstacle that we cannot overcome when we work together.
3. It was amazing to hear our students in the buildings and see their excitement to be back in person.
4. We need to continue to work on and strengthen our remote learning program.
5. Anonymity needs to lose out to student and public safety every time. If we have a concern presented to us about another family, we will do our best to address it and keep the reporting person's name out of it, but at the end of day we will not be delayed or more concerned by someone's need for privacy.
Resource
Saginaw County Health Department, (989) 758-3800
State of Michigan, COVID-19 Return to School Toolkit
Update Transportation Information, Transportation Return to School Roadmap
Cleaning and Disinfection Protocols
New Student Enrollment Information