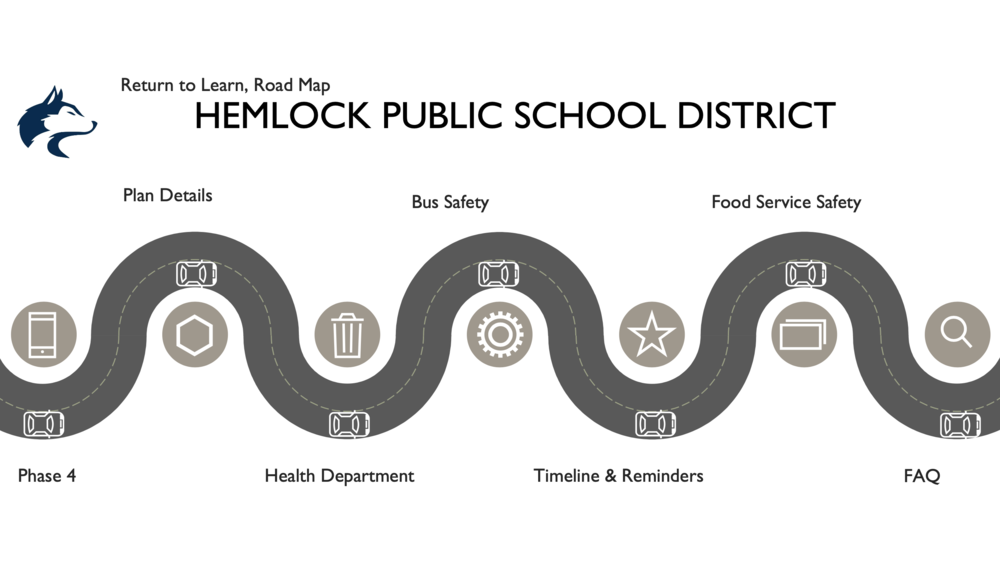 Return to Learn, Update
District
Tuesday, August 04, 2020
Dear Parents,
We at Hemlock Public School District are looking forward to the return of students and staff to our campus for the 2020-2021 school year. The district is taking precautions to keep everyone safe and healthy as we return to school and our regular routine. Nearly every aspect of how our school has operated in the past needs to change or adjust to meet new requirements and regulations.
You can click here to see an update of our Return to Learn Road Map. Our current draft plan utilizes a soft start (50% of students on campus each day) for the first two weeks to work through all of the changes and train students and staff with the new expectations. Team Hemlock will be students with the last names A-K and Team Huskies will be students the names L-Z. Households with more than one last name that would be placed into two groups should contact their child's building principal. Click here to see the preview calendar.
Parents wishing to select our virtual learning option should contact our central office at 989.642.5282 preferably by, August 17th, so that we may prepare accordingly.There will be more information forthcoming on August 13th.
All the best,
Superintendent Don Killingbeck, Ed.D.