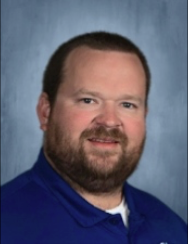 Hemlock Set to Hire New MS Principal
District
Wednesday, May 20, 2020
Hemlock, MI – Hemlock Public School District is pleased to announce that Joshua Chase has been selected as the new Hemlock Middle School Principal pending Board of Education approval for the 2020-21 school year.
The district received a lot of interest from qualified candidates and went through a rigorous interview process which included a digital screener, face to face interview, and finalists were greeted by a panel of nine, comprised of building staff, administrators, parents, and board members.
Board President Dr. Ellison said, "I couldn't be more excited for Mr. Chase and the district. Josh has earned the respect of his peers and students as a teacher, and will, undoubtedly, be a top-notch leader as a principal."
Mr. Chase will be a familiar face to many of our parents, students, and community members. He is a long-time Hemlock Public School District staff member as the 5th-12th grade band director and multi-media teacher.
Superintendent Killingbeck, himself a band parent, shares the loss, yet excitement with students, parents, and the community stating, "Director Chase is an excellent educator and one of the finest band directors in the State of Michigan. Under his leadership, the program has blossomed and grown to include nearly 1 out of 4 Hemlock High School students. We are, however, confident that both the band and the Middle School will move forward in a positive direction."
Chase has a professional portfolio of experience, which includes 17 years as a classroom teacher, and has served in the leadership capacity within the school district, as a coach, Director of Summer Recreation, a union negotiator, as well as the district's band director.
New Middle School Principal Joshua Chase said, "I will forever cherish my time as the leader of the Hemlock Band. However, I am very excited about this new challenge in my career. I am ready to get to work in my new position where I hope to have an even bigger reach of the student body".
Mr. Chase received his Bachelor of Arts in Education, in Music Education from Anderson University and went on to receive his Master of Education, in 2020 in Educational Technology Leadership from Lamar University. He is excited to work with the amazing group of middle school teachers and support staff at Hemlock and looks forward to leading the Huskie pack.
Superintendent Don Killingbeck said, "We are fortunate to have had such a wonderful pool of candidates. Mr. Chase was at the top of the list. His experience, credentials, and leadership are top-notch."
After getting settled into his position, Principal Chase plans on focusing on strengthening relationships, continuous improvements that are in place such as curriculum development, behavior support (PBIS/PAWS), developing student leadership, and focusing on student needs.