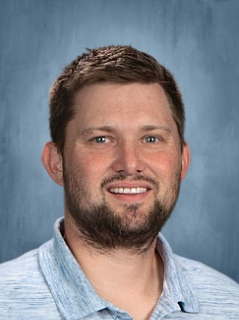 Staff Recognition Highlight
Terry Keyser
Monday, May 11, 2020
Terry Keyser has nominated Jeremy Stedry as our Staff Recognition Highlight this week.
Jeremy Stedry teaches 6th and 8th-grade math at Hemlock Middle School and has taught for 7 years. He is a Hemlock Public Schools graduate.
He loves baseball--he is a Tigers fan and plays on a vintage baseball team in his spare time.
Jeremy earned his Bachelor's degree at Saginaw Valley State University and likes to spend his spare time playing vintage baseball the way it was played when the game was first developed. Mr. Stedry's favorite book is The Great Gatsby. His favorite quote is "Tell me and I forget. Teach me and I remember. Involve me and I learn." His all-time favorite place visited is Utah.
Mrs. Stedry loves teaching, saying he is proudest when students put in their maximum effort.. He believes in his students' potential and strives to provide engaging instruction. Jeremy works to make classes fun and energetic and considers himself to be consistent and decisive.