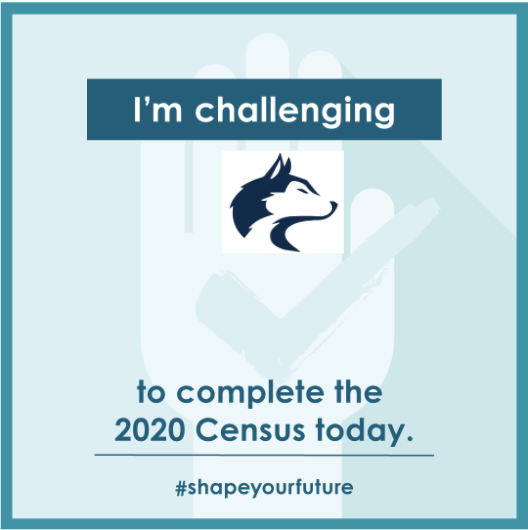 2020 Census Matters for Schools
District
Friday, April 10, 2020
HEMLOCK, MI – Shaping Michigan's future and the future of every Michigan child starts by participating in the 2020 Census. It takes ten minutes to answer nine simple questions online, by phone, or by mail counting everyone living in your home. This count includes children, newborns, citizens and non-citizens, relatives and non-relatives, and even those staying with you temporarily. Responses to the census are safe, secure, and confidential.
The U.S. Census Bureau provides a great example of how this impacts our students. (A kindergartener counted in the 2020 Census this spring will be starting high school when the next census comes around in 2030: That's 10 years of school supplies, teachers, school lunches, and so much more.) This is your opportunity to help ensure they have a bright future. The Saginaw Intermediate School District has determined that Saginaw County loses $1,800 each year across the next ten years. Missing 56 Saginaw County residents results in a $1,000,000 revenue loss during that time.
Hemlock Public School District Superintendent Dr. Don Killingbeck says, "The 2020 Census will shape federal funding for many programs across our county like special education, classroom technology, free and reduced-price school lunches, and maternal and child health programs."
According to the U.S. Census Bureau, "The census provides the basis for reapportioning Congressional seats, redistricting, and distributing billions of dollars in federal funding to support your state, county, and community's vital programs." Participating in the 2020 Census helps our communities get their fair share of federal funding, more than $675 billion, for Medicaid, healthcare facilities, roads, transportation, recreation centers, social services, food assistance, schools, and more. The State of Michigan shares, "The census remains a critically important civic duty that determines funding for local communities and essential services, shapes congressional representation, determines legislative districts and much more. Research shows low-income people, communities of color, rural communities, young children, and noncitizens are especially undercounted, and this is something we are working to change in our state in 2020."
In order to show our growth and economic opportunity, it will take participation from all Michigan residents, including neighbors, business owners, employers, and community leaders, to make sure everyone is counted.
Visit www.my2020census.gov to shape our future.