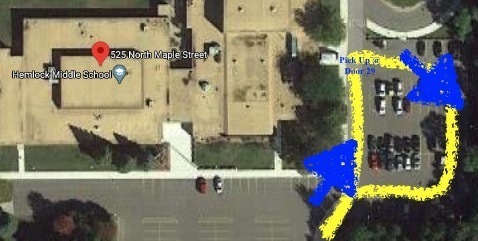 Pick-Up Meals Continue During Spring Break
DISTRICT
Sunday, March 29, 2020
Hemlock, MI – Hemlock Public School District is making sure no children are missing meals. Food Service Director Christine Tomasek and staff will continue providing breakfast and lunch bags from 10:00 am until 12:00 pm during spring break. This will occur on Monday, March 30, Wednesday, April 1, and Friday, April 3 from 10:00 am -12:00 pm.
Parents please stay in your vehicles, we will have staff bring it out to them from door #29.
If you know of a child that needs something to eat, pick up meals weekdays from 10:00 am until noon at Hemlock Middle School, door #29, or call 989-642-4700 or email tomasek@hemlockps.com to schedule a delivery.
For more information about this or other positive happenings, contact Hemlock Public School District at (989) 642-5282 or visit us on the web at www.hemlockps.com.