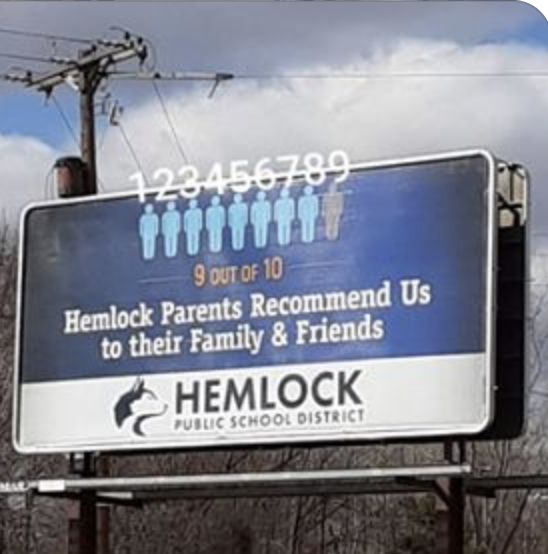 Right Message, Wrong Math
District
Monday, March 16, 2020
Hemlock Public School District recently had someone point out that we were missing someone on a billboard advertisement. The billboard read 9 out of 10 Hemlock parents recommend us to their family and friends, but the graphic only had nine people represented.
This was the right message but the wrong math, and although we score in the 90th percentile with parental satisfaction and recommendation, this was a failure. If one of our students turned in work like this, they might get a few points deducted or be asked to correct the mistake. In our case, depending upon how you look at it, we were fortunate to have our message about parent recommendation shared hundreds of times and perhaps made people laugh a little.
Discovering this mistake, a month after the signs were posted along M-46 and right after we shut our doors to our students and families seems like a reminder that right now we are missing someone, the students we work to educate every day.
Given the current state of education and the uncertainty that we live in, we hope that our blunder put a smile on your face or made you laugh a little, but in the case that you were frustrated or thought less of our school district, we apologize.
No matter whether you smiled, laughed, are frustrated, or embarrassed, when our schools open again, we encourage anyone to take a tour of our school building. See our fantastic staff in action, and learn more about all the things we have to offer.