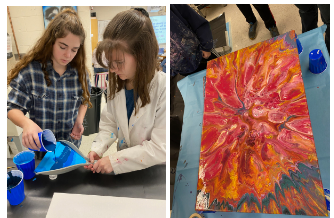 Hemlock's Love of the Arts
Keith Green/RaeAnn Woodcock/Kelly Phillion
Wednesday, March 11, 2020
Hemlock Public School District will host Love of the Arts on Tuesday, May 12th, 2020, at Hemlock High School featuring fine arts gallery from 5:00 pm to 7:00 pm and the performance arts portion from 7:00 pm to 9:00 pm.
Principal Keith Green said, "This is a special event within our district that unites all four of our school buildings and brings back former students who may have pursued a career in an art-related field. Our students have an opportunity to show off their talents in a real gallery setting."
Hundreds of people will converge to the high school located at 733 N. Hemlock for a night of art. This year we will be having 14 graduating seniors featuring their artwork and 10 alumni students, as well. The crowd will enjoy everything from culinary arts to industrial arts to performing arts and everything in between from Young 5 students up to alumni Hemlock students.
Our culinary arts class will be serving Hors d'oeuvres and the ever-popular return of the chocolate fountain.
Art Teacher RaeAnn Woodcock said, "This is a night to celebrate and recognize all the different forms of art Hemlock Public School District has to offer."
Superintendent Don Killingbeck said, "The Love of the Arts is always an amazing night and wonderful event to explore the artistic talents of our students."
The Hemlock Art Club would also like to thank the community, local businesses, our administration, and the school board members for always supporting our evening of celebration and the student artists involved throughout Hemlock Public School district.