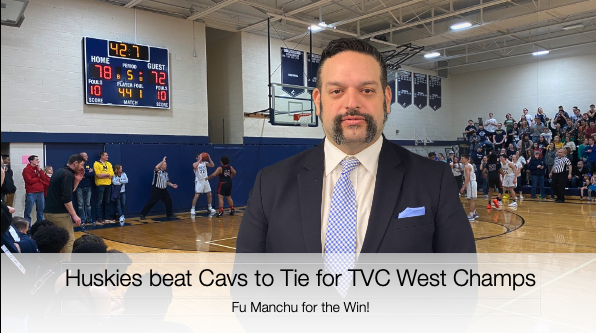 #HemlockBasketball
District
Monday, February 24, 2020
Sliding into Monday morning with a full-on Fu Manchu is not a normal thing for Superintendent Don Killingbeck.
But mid-last week, he reached out to Varsity Boys Basketball Coach Matt Bauer and said, "If the boys win Friday night, I will shave to "Mutton Chops" or a "Fu Manchu." The Huskies were facing undefeated Carrollton Cavilers and were the only team to place a check in the "L" column for Hemlock. Coach Bauer was quick to reply, "Fu Manchu."
Friday night was nothing short of electrifying; the Hemlock High School gymnasium contained so much energy with an amazing competitive spirit and sportsmanship exhibited by both teams and fans from both schools.
The Huskies prevailed in, overtime handing the Cavs their only loss of the season and setting the stage for a Hemlock - Carrollton TVC West Co-Champions 2020. The whole Huskie Pack is excited and extremely proud of our student athletes, coaches, staff, and fans.
Killingbeck went on to say, "We have nothing but respect for the players, staff, and families of Carrollton. These young men work hard on and off the court and exhibited the best efforts and sportsmanship under pressure that I have seen in a long time."
With that victory, Killingbeck, a beard judge, and enthusiast found himself with a razor in his hand.
#HemlockBasketball #Huskietastic #West_co_champs_2020