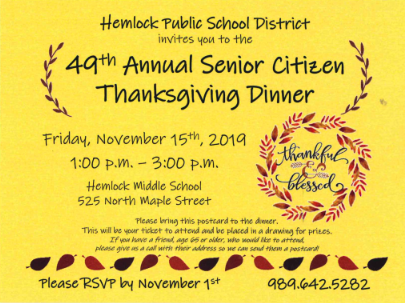 Thankful for an Enduring Tradition
Don Killingbeck/Kelly Phillion
Tuesday, October 29, 2019
Hemlock, MI – Hemlock Public School District has been a destination for senior citizens during the month of November for almost half a century.
The school district started hosting the event for seniors in 1970 as a way of honoring and thanking them for supporting the children of the community.
Superintendent Killingbeck said, "This is one of the best events of the year, it is great to connect with our senior citizens and share a good meal."
This year that enduring tradition of honoring and thanking our senior citizens continues. The district is excited to host the annual dinner on Friday, November 15th from 1-3:00 pm at Hemlock Middle School.
The Master of Ceremony this year will be the one and only, WNEM retiree Eric Jylha. Mr. Jylha was an affable weatherman and reporter for 27 years. Hemlock Public School District is honored to have him MC our event.
Each year the district works with generous area businesses and individuals to provide prizes to those in attendance. If you or your business would like to donate, or know of a Hemlock senior citizen who did not receive an invite please contact 989-642-5282 extension 1104.
Board President Ellison said, "This is a fun event for the attendees and yet another example of Hemlock Public School's decades of giving back."