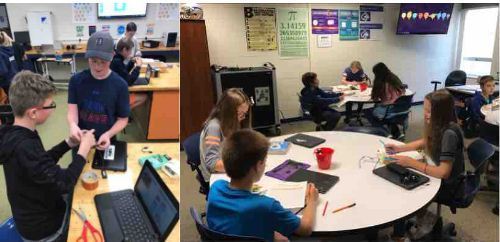 Hemlock's Classrooms of the Future
Terry Keyser/Kelly Phillion
Tuesday, October 15, 2019
Hemlock Public School District's Middle School is focusing on Communication- Collaboration-Creativity-and Critical thinking skills in an important part of success in the classroom experiences today, tomorrow, and later on in their careers.
Many jobs require people to work effectively in teams to create ideas, products, and designs. What better place to learn these skills than at school, especially at the middle school level where social skills and awareness are developing skills?
Hemlock Middle School students are building these skills in classroom projects, working with teams to create robots, control Spheros, and solve math problems. They work on teams to do their best in test reviews using challenge software in social studies and to complete labs in science classes. They practice with other band members to craft excellent performances. They participate in sports of all types to learn teamwork skills. They craft books together in Spanish class and English class to share with students in other classes and other buildings. Even whiteboard tables can become teamwork tables as math students solve problems together by writing down their processes for a solution and finding the right answers together.
Principal Keyser said, "Teamwork is such an important skill for our students, now and in "real life", that we need to teach and practice these skills across grade levels, subject areas and in various situations so our students have as many positive experiences with them as possible. Our students are learning 21st Century skills that are critical to their current and future successes."