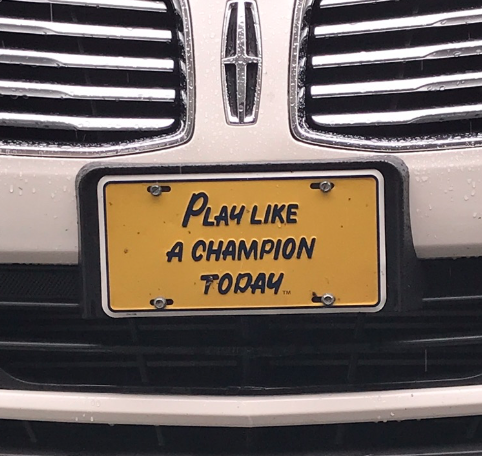 Play Like a Champion Today!
District
Tuesday, October 15, 2019
Hi again, parents and community friends!
Have you ever seen this license plate?
As an educator, this reminds me of the phrase championship coaches often like to say: "We play like we practice." This phrase is so true for our school district, too.

Students will also perform like they prepare and practice.

Without us providing consistent preparation, practice, and support for our students, we make it extremely difficult for them to confidently "Win the Race" later in life in their chosen paths of college and career.

Said another way, we really can't call on our students to "Play like Champions Today" if we must continue taking dollars away from our instructional programs in order to respond to the major repairs, upgrades, and serious maintenance realities that arise with aging facilities.

Fortunately, HPSD has a Sinking Fund request on the November 5th ballot and I hope you will review the information and become an informed voter.

I also hope you'll take a few moments to click through three school snippets created by our three principals.

Their brief snippets are examples of how we're effectively preparing students in our community to Win the Race and Play like Champions.
Want to see what a "win-win" program looks like?
I'm Lori Gensch, principal of Hemlock Elementary, and K.C Ling. We have a unique peer-to-peer program at both schools. When we team up our general education students and our students with autism, everyone comes away a winner! Full Story

Developing the "whole student", is our mission at HMS!
I'm Terry Keyser, the principal of Hemlock Middle School. When you provide students multiple ways to express themselves and demonstrate their learning, good things happen. Here's a glimpse. Full Story

Art is alive and well at HHS, in and out of the classroom.
I'm Keith Green, principal at Hemlock High School. I never cease to be amazed by the creative talents of our students. I'm glad we're able to provide opportunities for artistic expression (and fun!) throughout the entire school year. See how. Full Story

Here's the link to our election info:
www.HemlockElectionInfo.org

We also begin our first 45-minute "Help Our Kids Win the Race" Info Meetings, hosted by our principals.
Join in!
• Middle School – Wed., Oct. 16 at 6 pm
focus: Classroom of the Future
• High School – Tues., Oct. 22 at 6 pm
focus: Extending Academic Rigor
• K.C. Ling – Wed., Oct. 23 at 6 pm
focus: Encouraging Better Citizenship

As always, thanks for your time and consideration.

Please don't forget what Will Rogers once said many years ago, "Even if you're on the right track, you'll get run over if you just sit there."

This is what makes our Sinking Fund proposal so important.

We've got to keep preparing and building for the future.

Contact me if I can provide additional information.

Don Killingbeck, Superintendent
email: killingbeck@hemlockps.com
ph: (989) 642-5282