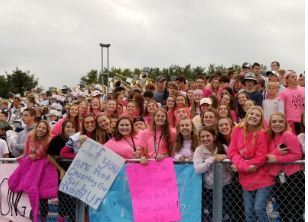 PINK OUT
KEITH GREEN/Kelly Phillion
Monday, September 09, 2019
Hemlock High School's Friday night football game was a sea of pink and white to honor two Huskies that are battling injuries that have created a battle against paralysis.
During the summer break, great adversity struck two of our Hemlock families. The Baird Family experienced tragedy as their daughter, 3rd-grader Paige, was found unresponsive by her kindergarten-hero of a little sister, Emma. Emma's actions saved her sister's life, but the Baird's then had to face the reality that Paige had suffered severe damage in a fall. Paralysis was that reality, their world turned upside down.
Days following the painful news about Paige, it was learned that Jason Trumble, husband of Jamie and father of Huskies, Dean, and Vivian, was injured in a dirt bike accident. Jason and his family, too, were in desperate medical circumstances. Paralysis was Jason's reality, as well.
Paige's favorite color is pink, so Friday night was a "pink out" and the football team wore pink socks.
We would like to thank the Carrollton Cavaliers and Head Coach Nate Wotta for participating and supporting Paige, as well. They, too, wore pink socks. The Cavs performed pushups for Paige this summer and also united with our Hemlock Varsity Football Team during warmups for thirty more pushups in Paige's honor. Thank you, Carrollton!!!
"The support that the Hemlock Community has given these two families through this near tragedy is inspiring. Even more, inspiring is seeing both of them beating the odds and coming home. I am proud to be a Huskie," shared HS Principal Keith Green.