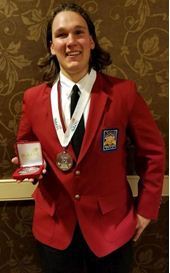 SkillsUSA-Mason LaDouce
Kelly Phillion
Friday, August 09, 2019
Louisville, KY – Hemlock Public School District was represented by Class of 2019 graduate Mason LaDouce, at the recent National Competition for SkillsUSA. LaDouce attended Hemlock High School and Saginaw Career Complex, where he was actively developing his culinary skills.
Superintendent Killingbeck said, "This young man has a bright future in front of him! He is talented, hardworking, and has developed a unique and rich skillset."
LaDouce finished 2nd place at the National Competition for SkillsUSA for Culinary Arts at their 55th Annual Conference showcasing the skilled trades.
The SkillsUSA Championships is the nation's largest workforce development event for middle school, high school and college/postsecondary students enrolled in public career and technical education programs. SkillsUSA hosts the annual event at an estimated cost of more than $36 million. It is considered the largest skill competition in the world and the single largest day of industry volunteerism in America. SkillsUSA represents 130 different occupational areas and adds contests to the SkillsUSA Championships each year to meet the demands of new or expanding careers. Begun in 1967, the SkillsUSA Championships features more than 6,400 competitors in 103 hands-on skill and leadership contests. Each contestant is a state gold medalist.
Mason is going on to the Culinary Institute of Michigan to pursue his dream of becoming a Chef.