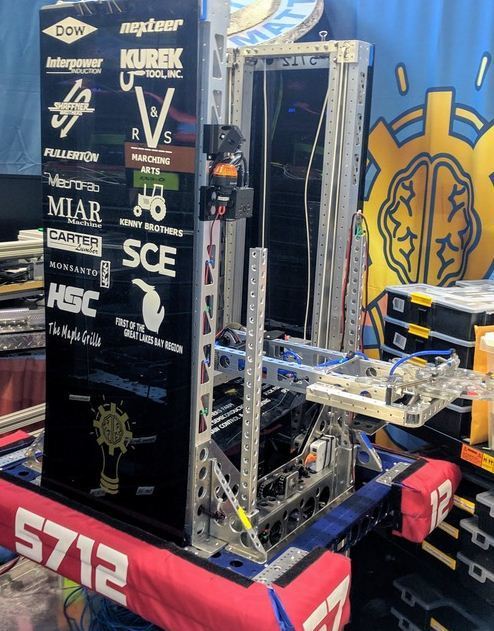 Hemlock's Gray Matter 5712 Heading to World Championships
Tom and Dana Lockwood/Kelly Phillion
Wednesday, April 17, 2019
Hemlock High School's award-winning robotics team, Hemlock's Gray Matter 5712, is now ranked in the top 10% of the teams in the state of Michigan. This lofty ranking means that the team will advance to compete at the FIRST World Championships in Detroit April 25-28.
FIRST Robotics has experienced explosive growth over the past five years as there are now 542 high school level FIRST Robotics Competition (FRC) teams in the state. The top 160 of those teams met at Saginaw Valley State University over the weekend to determine a State Champion. Gray Matter along with the Charge, from H.H. Dow High School in Midland and the BraveBots from Gladstone, lost to the eventual state championship alliance in quarterfinal matches.
Robotics Advisor Tom Lockwood said, "The unique thing about FIRST Robotics competitions is that we are competing against the largest, wealthiest, most skilled teams in the state. There are no divisions for the little guys. It's really a great experience for our kids to see that hard work, determination, and smart gameplay make us competitive in any environment".
The next step on Gray Matter's journey is an invitation to the FRC World Championships in Detroit. Teams from across the US, Canada, Israel, Chile, Taipei, the Netherlands, Singapore, Poland, India, Japan, South Africa, Switzerland, and Indonesia will compete for a World Championship.
Gray Matter's season has been filled with accomplishments as they finished 3rd out of 40 teams at the Kettering District in Flint Michigan, 2nd out of 40 teams at the Midland event and 14th in their division at the State Championships.
"It's about more than the robot," Gray Matter's lead mentor Dana Lockwood said, "we've won the Imagery Award at Kettering, the highly coveted Engineering Inspiration Award in Midland, and the Spirit Award at the State Championships. We have a great team of 30 kids and 12 mentors, and we work really, really hard. The kids are technical experts, but they also learn how to communicate, how to work together, how to use databases, how to do strategic analysis, how to do risk assessment. It's a real journey into high-level thinking, communication and problem- solving."